The MV Gang
June 2002 MV - EDGARTOWN visit to Martha's Vineyard


Saturday, June 22, to Saturday, June 29, 2002
"Barbara Ronchetti: The Island House"
18 Meshacket Road, Edgartown,
Martha's Vineyard, Massachusetts, USA.







VACATION PHOTOGRAPHS


.... The exterior picture of the house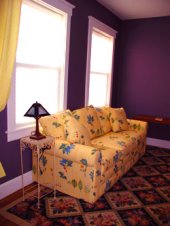 The first floor den ....

.... The first floor living room



The second floor master bedroom ....

.... More third floor and staircase



Third floor family room ....



Dan and Tom P. prepare our tasty guests ....


It's really hot inside that pot ....

.... What's lobster without margarites????



Tom D. looks to be enjoying his ....


Karen has salad duty ....


.... And Laura is cleaning the corn on the cob


Does anybody have pictures of the lemon pie?


And where is Tom C.?


Of course, Bill is behind the camera!


.... It's time to eat lobster!


Very bright salad ....


.... Maureen, Tom P., and Dan appear to be standing around and drinking (well, it "is" vacation time)


It must have been a pretty good dinner, right Dan ....




.... The roses were blooming all over the Island



This is one BIG flower ....

(as seen in front of one of the shops in Aquinnah off of Gay Head)




.... Exploring the island and one of its many beautiful nursuries



The harbor around Oak Bluffs is shown with all of its neat shops. Hey, I even see a black dog in the distance. Thanks, Kate for the colorful picture! ....




.... Tom P., Dan, and Karen hit the Gay Head beach. It looks they are the only beachcombers around. (The photo was taken by Kate.)


Kate takes a beautiful picture of the Gay Head shoreline with the red-clay cliffs in the background ....




Let's head for the beach!! Everybody will be there!!

Information

William Arthur Atkins

e-mail: williamatkins3307 [at] comcast.net
home URL: http://www.WilliamArthurAtkins.com